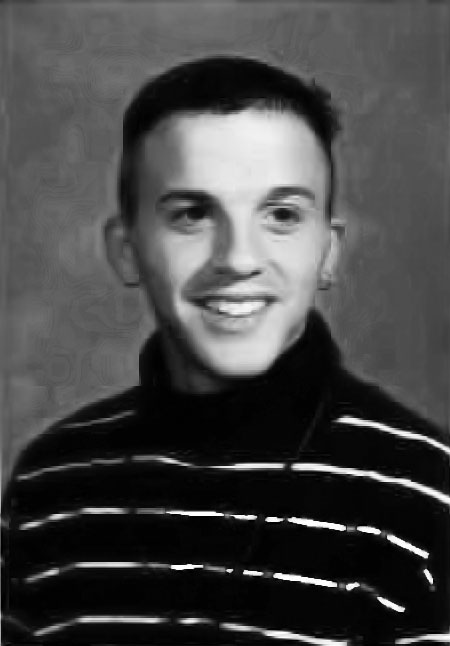 Our friend and classmate, Trey Springer, was diagnosed with cancer during the summer after our sophomore year at Notre Dame. He underwent treatment at St. Jude's Hospital for 1½ years, before passing away on December 9, 1990, midway through our Senior Year. For many of us, Trey's illness was the first exposure to the emotional struggle that comes when a loved one battles such a terrible disease. Trey was very athletic and a talented soccer player, which made it all the more dreadful to watch as cancer and chemotherapy treatments weakened Trey's body over those years. His death, during the middle of our last school year together, shaped our identity as a class. Every year since we graduated, our class has placed a wreath on Trey's grave on the anniversary of his death. Our friend remains a part of our Class of 1991, watching over us as our guardian angel these last 25 years. Before he died, Trey asked for one song to be played at his funeral, as the way he wanted us to say goodbye to him…. "Fly to the Angels."
As we now prepare to celebrate the 25th Reunion since our graduation from Notre Dame High School, it is notable that every member of our graduating class is still alive. It is also interesting that we didn't have any other serious health problems or classmate deaths during our grade school years prior to high school together at Notre Dame. Perhaps this very fortunate history is one of the reasons why Trey's death remains such a powerful memory for us.
Notre Dame High School did not have cross country or track and field during our years there. This is, indeed, unfortunate because about 15% of our graduating class has completed a marathon or half marathon since high school. Two of our classmates, Tim Landewe and Sasha (Strattman) Grojean, have completed ultra-marathon races. As we enter middle age, we thought the Run, Run for Old Notre Dame… theme would be a great way to celebrate our collective health since high school while also remembering Trey in a special way as we seek to add $25,000 to his memorial scholarship fund.
Tim Landewe created the name and concept for this theme. Classmates from the Class of 1991 will take turns running segments on a Relay Marathon that begins at the old Notre Dame high school, then visits many of the old places around Cape Girardeau that were part of our high school years, before ending with a final lap on the track at the new Notre Dame High School just as SportsFest is taking place on Campus! We will have a Party Bus of classmates that travels along the marathon route, providing support and camaraderie for the runners.